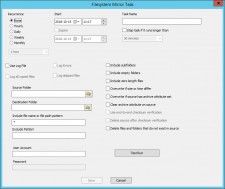 FS Mirror software synchronizes file systems stored in the cloud, local disk, LTO and optical disc.
WALNUT CREEK, Calif., November 6, 2018 (Newswire.com) - XenData, the global provider of high capacity data storage solutions, launches FS Mirror software which syncs file-folder structures between cloud, local disk, LTO, and Sony Optical Disc Archive (ODA) storage. The software is optimized in terms of performance and integrity specifically for these storage types: Performance is maximized by restoring files from LTO in tape order and from ODA in disc order; File integrity is assured by using end-to-end checksums.
An attractive use-case for FS Mirror is to synchronize a file-folder structure held on an LTO archive, an ODA system or on shared disk storage to a clone copy stored in the cloud. In addition to providing a data protection copy in a cloud location, it supports multi-site access to the entire cloned file system.
Conventional backup software does not scale to very large volumes of digital assets because there is never enough time for a full backup and restoring from hundreds or thousands of incremental backups is unreliable. FS Mirror provides a synchronized backup mirror copy of one or more file systems and does so in a way that scales to petabytes.

Dr. Phil Storey, XenData CEO
Another mode of use is to replicate the file-folder structure on shared disk storage to LTO data tape cartridges within a robotic library. FS Mirror provides a cost-effective data protection solution for high capacity disk volumes that scales easily to multiple petabytes. And, if a file is accidentally overwritten or deleted on the shared disk storage, old and deleted versions of any file can be restored individually from LTO. In the case of a serious problem with the shared disk storage, the complete file system can be easily rebuilt from LTO using the FS Mirror software which will rapidly recover files in tape order.
The FS Mirror software runs on XenData Hybrid Storage and Archive Servers. A wide range of robotic LTO libraries are supported including those from Dell, HPE, IBM, Oracle, Overland Storage, Qualstar, Quantum, and Spectra Logic. For cloud storage, it supports the hot and cool tiers of Azure Blob Storage.
FS Mirror will be available from November 26, 2018, and has a US list price of $1,800.
About XenData
XenData is a global provider of professional data storage solutions optimized for video and other applications with high volumes of large files. It offers highly scalable on-premises active archive systems and hybrid cloud solutions built on a global file system. XenData archive systems provide secure long-term retention of digital assets on RAID, LTO, optical disc cartridges and/or the cloud. Its hybrid cloud solutions allow file-based applications to use cloud object storage without modification. Furthermore, they allow massive quantities of files to be synchronized across multiple cloud and on-premises locations.
XenData has customers in over 90 countries, including government organizations, large corporations, TV stations and media production companies. For more information visit: www.xendata.com.
###
For more information:
Alyssa Adriano
Marketing Specialist
XenData, Inc.
T. +1 925 464 2618
Source: XenData
Share: